Locations
Atlanta GA Office – 124 Shadowood Pkwy SE, Atlanta GA, 30339
Chicago / Naperville office and Training Center – 600 B W. 5th Ave, Naperville, IL 60563, just minutes from I-88.
For exact location and driving directions please click on the map below.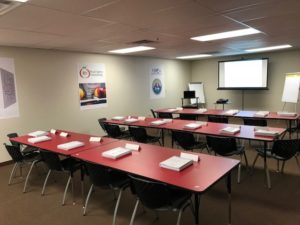 Our Training Room is set up to facilitate group exercises and provide sufficient working space to participants. Our class has a maximum of 18 seats to assure that each trainee receives sufficient attention from instructor.
For your convenience, we offer free Wi-Fi and free parking.
Below we listed a few nearby hotels we recommend to course participants
Hotel Indigo   **Located in Downtown Naperville**
Address: 120 Water St, Naperville, IL 60540
Phone:(630) 778-9676
Hilton / Garden Inn
Address: 28351 Dodge Dr, Warrenville, IL 60555
Phone:(630) 393-3223
Spring Hill Suites
Address: 4305 Weaver Pkwy, Warrenville, IL 60555
Phone: (630) 393-040