When it comes to food safety, there are a lot of programs available. BD Food Safety Consultants LLC provides some of the most qualified food safety services in Chicago, online, and to clients nationwide. We are a one stop shop for food safety training courses (HACCP certification, PCQI, FSVP, IAVA & Internal Auditor) some of which are recognized by FDA, USDA & GFSI Certification Audits.  We offer comprehensive food safety consulting services from regulatory compliance to assistance with GFSI audit preparations. Our team of instructors and registered consultants leverage over 45 years of combined food safety experience. This allows us to offer a comprehensive lineup of food safety programs and training tools such as Online Learning Management System. Our Chicago office serves Clients nationwide and internationally. Click Tabs below to learn more about our products and services.
Meet our Team – Click on the Image Below
Our Training and Consulting Services
Why BD Food Safety Consultants LLC?
Our food safety consulting experience covers a diverse list of food sector categories. All of our Consultants and Lead Instructors have operational experience in managing food safety systems in food manufacturing, processing and distribution companies. This makes us qualified to train and consult others on the food safety guidelines set forth by the FDA, USDA and GFSI. We teach training curricula that are recognized by regulatory agencies and certification audits and our Lead Instructors are being recognized!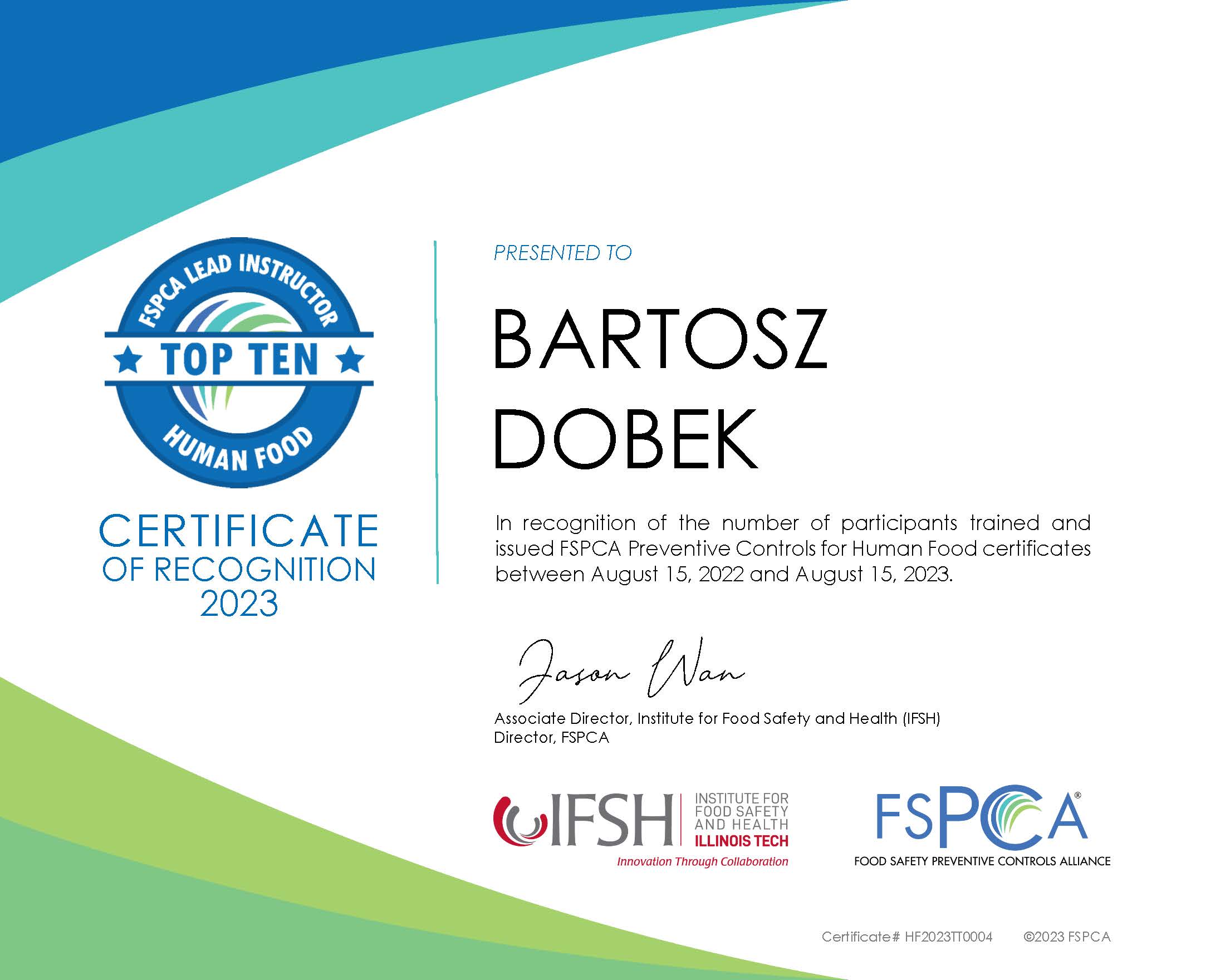 Bart Dobek was recognized as Top Ten 2023 FSPCA Preventive Controls for Human Food Lead Instructor. The recognition was awarded based on the number of participants trained and issued FSPCA Preventive Controls for Human Food certificates between August 15, 2022, and August 15, 2023.
We offer classroom and online live courses as well as innovative solutions in employee food safety training (DOCEO LMS). Individuals attending our FSPCA & HACCP Courses receive certificate of attendance. Some of our training courses and products include:
PCQI Training – FSPCA's Preventive Controls for Human Food Courses recognized by FDA
HACCP Training – International HACCP Alliance Accredited HACCP Certification Courses
FSPCA's FSVP Training Courses recognized by FDA
IAVA Training – FSPCA' s Intentional Adulteration Vulnerability Assessment Courses recognized by FDA
Internal Auditor Training Courses compliant with GFSI certification audits requirements
DOCEO Online Learning Management System with pre-loaded content complaint with GFSI certification and regulatory requirements for food safety / food hygiene employee training
FSMA & HACCP Regulatory Compliance consulting service
GFSI (SQF / BRC / FSSC 22000, Primus GFS) consulting service and assistance with audit preparations
In addition to our training courses, we are registered GFSI food safety consultants with office location in Chicagoland. We offer our services nationwide and internationally. If you need a registered food safety consultant, we boast some of the best in the field.
The Importance of Food Safety Courses and Proper Training
Food safety courses and proper training programs are important because they directly affect the public's health. Multiple types of businesses come to us for assistance — such as, food manufacturing companies, distribution centers, food packaging manufacturers and more. Our classroom & online food safety training courses are designed to meet the needs of practically any type of business that deals with food or food contact material.  DOCEO Learning Management System was designed with pre-loaded content to meet the requirements for food safety workforce training required by FSMA, HACCP & GFSI.
Not only are we equipped to consult with food businesses to build the most attentive food safety protocol, but we also are prepared to handle training for the employees. Many individuals come to us to get trained and certified in food safety so they can better their career.
Working With Us for Food Safety in Chicago and Nationwide
When you are dealing with a topic that has so much bearing on the success of your food-related business, it is critical to have the most well-equipped food safety consultant Chicago has to offer. When choosing us for your food safety training and consulting needs, you reap several advantages, including:
Affordability for small and medium-sized businesses
Courses to achieve certificate of attendance taught by professional instructors with experience on the given topic
An FDA-recognized classroom & online training curricula that meet the requirements of the Food Safety Modernization Act
An FDA and USDA recognized classroom & online HACCP course that meets the requirements of HACCP regulation.
Small classroom sizes so attendees maximize their experience
Wide range of food safety consulting services. Consulting in FSMA / HACCP, GFSI Certification and 3rd party audit preparations
BD Food Safety Consultants LLC makes your food safety training as simplistic as possible. We strive to use our years of expertise to properly train every person who comes to us for assistance. Our team is always open to discuss any concerns that potential clients may have about our services. 
Let's Get Started
If you are interested in making sure you or your employees are well-versed in food safety, register for courses on our website by following the above links. You can also contact BD Food Safety Consultants LLC for additional information regarding regulatory compliance (FSMA / HACCP) and GFSI consulting services. Fill out the form below to get started!
Privacy Policy
BD Food Safety Consultants LLC Privacy Policy
Your privacy is important to us. It is BD Food Safety Consultants LLC's policy to respect your privacy and comply with any applicable law and regulation regarding any personal information we may collect about you, including across our website, https://bdfoodsafety.com, and other sites we own and operate.
Personal information is any information about you which can be used to identify you. This includes information about you as a person (such as name, address, and date of birth), your devices, payment details, and even information about how you use a website or online service.
In the event our site contains links to third-party sites and services, please be aware that those sites and services have their own privacy policies. After following a link to any third-party content, you should read their posted privacy policy information about how they collect and use personal information. This Privacy Policy does not apply to any of your activities after you leave our site.
This policy is effective as of 20 October 2021.
Last updated: 20 October 2021
Information We Collect
Information we collect falls into one of two categories: "voluntarily provided" information and "automatically collected" information.
"Voluntarily provided" information refers to any information you knowingly and actively provide us when using or participating in any of our services and promotions.
"Automatically collected" information refers to any information automatically sent by your devices in the course of accessing our products and services.
Personal Information
We may ask for personal information — for example, when you subscribe to our newsletter or when you contact us — which may include one or more of the following:
Name
Email
Phone/mobile number
Legitimate Reasons for Processing Your Personal Information
We only collect and use your personal information when we have a legitimate reason for doing so. In which instance, we only collect personal information that is reasonably necessary to provide our services to you.
Collection and Use of Information
We may collect personal information from you when you do any of the following on our website:
Sign up to receive updates from us via email or social media channels
Use a mobile device or web browser to access our content
Contact us via email, social media, or on any similar technologies
When you mention us on social media
We may collect, hold, use, and disclose information for the following purposes, and personal information will not be further processed in a manner that is incompatible with these purposes:
to provide you with our platform's core features and services
for internal record keeping and administrative purposes
We may combine voluntarily provided and automatically collected personal information with general information or research data we receive from other trusted sources. For example, Our marketing and market research activities may uncover data and insights, which we may combine with information about how visitors use our site to improve our site and your experience on it.
Security of Your Personal Information
When we collect and process personal information, and while we retain this information, we will protect it within commercially acceptable means to prevent loss and theft, as well as unauthorized access, disclosure, copying, use, or modification.
Although we will do our best to protect the personal information you provide to us, we advise that no method of electronic transmission or storage is 100% secure, and no one can guarantee absolute data security.
You are responsible for selecting any password and its overall security strength, ensuring the security of your own information within the bounds of our services. For example, ensuring you do not make your personal information publicly available via our platform.
How Long We Keep Your Personal Information
We keep your personal information only for as long as we need to. This time period may depend on what we are using your information for, in accordance with this privacy policy. For example, if you have provided us with personal information such as an email address when contacting us about a specific enquiry, we may retain this information for the duration of your enquiry remaining open as well as for our own records so we may effectively address similar enquiries in future. If your personal information is no longer required for this purpose, we will delete it or make it anonymous by removing all details that identify you.
However, if necessary, we may retain your personal information for our compliance with a legal, accounting, or reporting obligation or for archiving purposes in the public interest, scientific, or historical research purposes or statistical purposes.
Children's Privacy
We do not aim any of our products or services directly at children under the age of 13, and we do not knowingly collect personal information about children under 13.
Disclosure of Personal Information to Third Parties
We may disclose personal information to:
a parent, subsidiary, or affiliate of our company
third-party service providers for the purpose of enabling them to provide their services, including (without limitation) IT service providers, data storage, hosting and server providers, analytics, error loggers, debt collectors, maintenance or problem-solving providers, professional advisors, and payment systems operators
our employees, contractors, and/or related entities
our existing or potential agents or business partners
credit reporting agencies, courts, tribunals, and regulatory authorities, in the event you fail to pay for goods or services we have provided to you
courts, tribunals, regulatory authorities, and law enforcement officers, as required by law, in connection with any actual or prospective legal proceedings, or in order to establish, exercise, or defend our legal rights
third parties, including agents or sub-contractors, who assist us in providing information, products, services, or direct marketing to you
third parties to collect and process data
an entity that buys, or to which we transfer all or substantially all of our assets and business
Third parties we currently use include:
Your Rights and Controlling Your Personal Information
Your choice: By providing personal information to us, you understand we will collect, hold, use, and disclose your personal information in accordance with this privacy policy. You do not have to provide personal information to us, however, if you do not, it may affect your use of our website or the products and/or services offered on or through it.
Information from third parties: If we receive personal information about you from a third party, we will protect it as set out in this privacy policy. If you are a third party providing personal information about somebody else, you represent and warrant that you have such person's consent to provide the personal information to us.
Marketing permission: If you have previously agreed to us using your personal information for direct marketing purposes, you may change your mind at any time by contacting us using the details below.
Access: You may request details of the personal information that we hold about you.
Correction: If you believe that any information we hold about you is inaccurate, out of date, incomplete, irrelevant, or misleading, please contact us using the details provided in this privacy policy. We will take reasonable steps to correct any information found to be inaccurate, incomplete, misleading, or out of date.
Non-discrimination: We will not discriminate against you for exercising any of your rights over your personal information. Unless your personal information is required to provide you with a particular service or offer (for example providing user support), we will not deny you goods or services and/or charge you different prices or rates for goods or services, including through granting discounts or other benefits, or imposing penalties, or provide you with a different level or quality of goods or services.
Notification of data breaches: We will comply with laws applicable to us in respect of any data breach.
Complaints: If you believe that we have breached a relevant data protection law and wish to make a complaint, please contact us using the details below and provide us with full details of the alleged breach. We will promptly investigate your complaint and respond to you, in writing, setting out the outcome of our investigation and the steps we will take to deal with your complaint. You also have the right to contact a regulatory body or data protection authority in relation to your complaint.
Unsubscribe: To unsubscribe from our email database or opt-out of communications (including marketing communications), please contact us using the details provided in this privacy policy, or opt-out using the opt-out facilities provided in the communication. We may need to request specific information from you to help us confirm your identity.
Use of Cookies
We use "cookies" to collect information about you and your activity across our site. A cookie is a small piece of data that our website stores on your computer, and accesses each time you visit, so we can understand how you use our site. This helps us serve you content based on preferences you have specified.
Please refer to our Cookie Policy for more information.
Business Transfers
If we or our assets are acquired, or in the unlikely event that we go out of business or enter bankruptcy, we would include data, including your personal information, among the assets transferred to any parties who acquire us. You acknowledge that such transfers may occur, and that any parties who acquire us may, to the extent permitted by applicable law, continue to use your personal information according to this policy, which they will be required to assume as it is the basis for any ownership or use rights we have over such information.
Limits of Our Policy
Our website may link to external sites that are not operated by us. Please be aware that we have no control over the content and policies of those sites, and cannot accept responsibility or liability for their respective privacy practices.
Changes to This Policy
At our discretion, we may change our privacy policy to reflect updates to our business processes, current acceptable practices, or legislative or regulatory changes. If we decide to change this privacy policy, we will post the changes here at the same link by which you are accessing this privacy policy.
If required by law, we will get your permission or give you the opportunity to opt in to or opt out of, as applicable, any new uses of your personal information.
Additional Disclosures for California Compliance (US)
Under California Civil Code Section 1798.83, if you live in California and your business relationship with us is mainly for personal, family, or household purposes, you may ask us about the information we release to other organizations for their marketing purposes.
To make such a request, please contact us using the details provided in this privacy policy with "Request for California privacy information" in the subject line. You may make this type of request once every calendar year. We will email you a list of categories of personal information we revealed to other organisations for their marketing purposes in the last calendar year, along with their names and addresses. Not all personal information shared in this way is covered by Section 1798.83 of the California Civil Code.
Do Not Track
Some browsers have a "Do Not Track" feature that lets you tell websites that you do not want to have your online activities tracked. At this time, we do not respond to browser "Do Not Track" signals.
We adhere to the standards outlined in this privacy policy, ensuring we collect and process personal information lawfully, fairly, transparently, and with legitimate, legal reasons for doing so.
Cookies and Pixels
At all times, you may decline cookies from our site if your browser permits. Most browsers allow you to activate settings on your browser to refuse the setting of all or some cookies. Accordingly, your ability to limit cookies is based only on your browser's capabilities. Please refer to the Cookies section of this privacy policy for more information.
CCPA-permitted financial incentives
In accordance with your right to non-discrimination, we may offer you certain financial incentives permitted by the CCPA that can result in different prices, rates, or quality levels for the goods or services we provide.
Any CCPA-permitted financial incentive we offer will reasonably relate to the value of your personal information, and we will provide written terms that describe clearly the nature of such an offer. Participation in a financial incentive program requires your prior opt-in consent, which you may revoke at any time.
California Notice of Collection
In the past 12 months, we have collected the following categories of personal information enumerated in the California Consumer Privacy Act:
Customer records, such as billing and shipping address, and credit or debit card data.
Employment and education data, such as data you provide when you apply for a job with us.
For more information on information we collect, including the sources we receive information from, review the "Information We Collect" section. We collect and use these categories of personal information for the business purposes described in the "Collection and Use of Information" section, including to provide and manage our Service.
Right to Know and Delete
If you are a California resident, you have rights to delete your personal information we collected and know certain information about our data practices in the preceding 12 months. In particular, you have the right to request the following from us:
The categories of personal information we have collected about you;
The categories of sources from which the personal information was collected;
The categories of personal information about you we disclosed for a business purpose or sold;
The categories of third parties to whom the personal information was disclosed for a business purpose or sold;
The business or commercial purpose for collecting or selling the personal information; and
The specific pieces of personal information we have collected about you.
To exercise any of these rights, please contact us using the details provided in this privacy policy.
Shine the Light
If you are a California resident, in addition to the rights discussed above, you have the right to request information from us regarding the manner in which we share certain personal information as defined by California's "Shine the Light" with third parties and affiliates for their own direct marketing purposes.
To receive this information, send us a request using the contact details provided in this privacy policy. Requests must include "California Privacy Rights Request" in the first line of the description and include your name, street address, city, state, and ZIP code.
Contact Us
For any questions or concerns regarding your privacy, you may contact us using the following details:
Bart Dobek
https://bdfoodsafety.com